How to avoid poor hoof condition caused by dry, compacted surfaces and wet conditions from La Niña.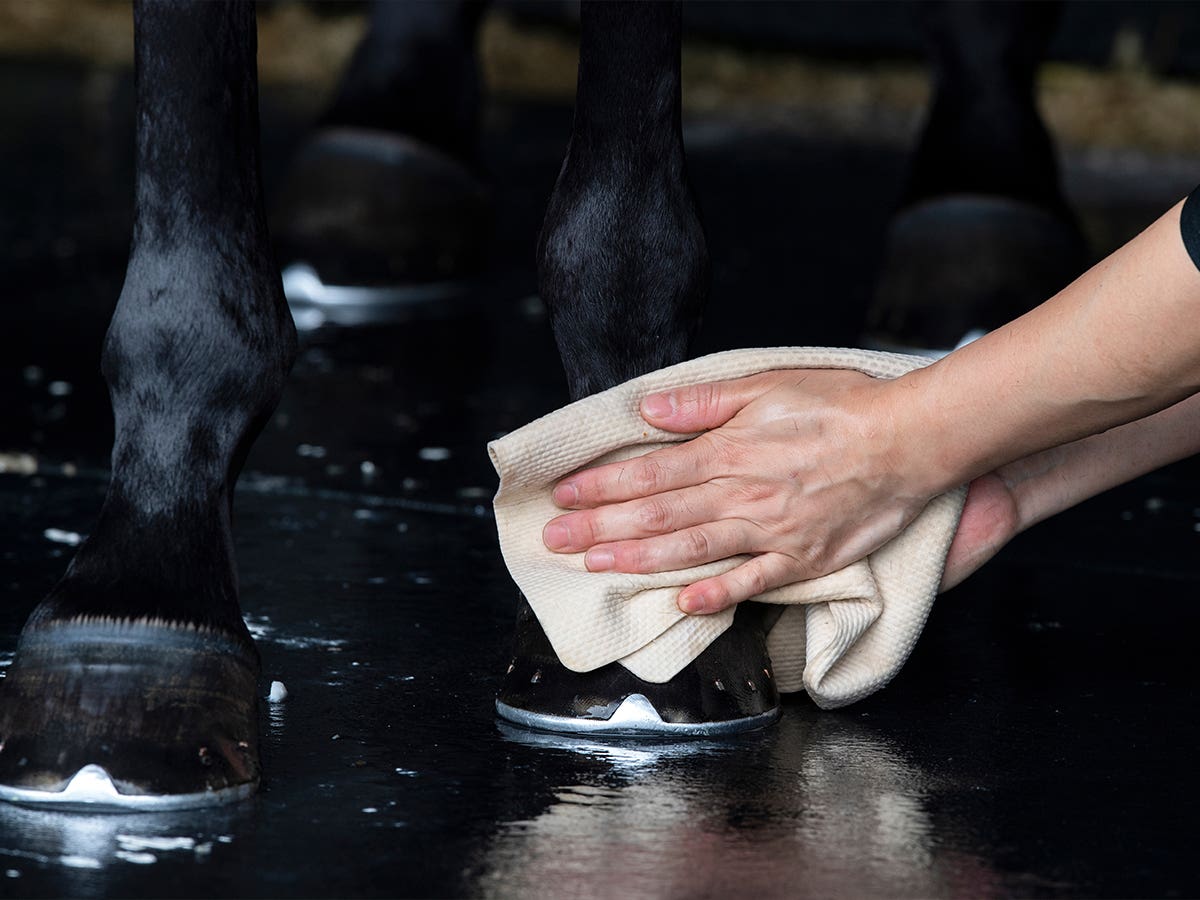 Summer in Australia can be a challenging time for horse hoof health, the extreme hot and dry conditions, coupled with occasional periods of rain in some areas, can make it difficult to maintain good hoof quality.
In this blog we share the top 8 tips to keep your horse's hooves healthy during these warmer months.
Hot weather and dry surfaces drain moisture from horse's hooves, which can leave them brittle and lead to cracking and break-away. Cracked hooves are more susceptible to white line separation and abscesses.
During summer, the ground generally becomes harder and more compacted due to the hot weather. Horses also contribute to soil compaction, especially if paddocks are overstocked. Compacted surfaces are often seen in horse paddocks and on high-use arena riding surfaces. Horses exercising and living on compacted surfaces are more susceptible to hoof cracking and break-away. Concussive forces which effect joint health are also higher for horses on compacted surfaces.
For those living in the northern states with wet seasons and for all of Australia with the current La Niña climate pattern, heavy showers of rain or periods of wet weather can also be problematic for hoof health leading to an increase in hoof abscesses, especially when hooves are already cracked or compromised. Hoof abscesses are a common problem during prolonged wet conditions, as the soil is soft and muddy. Microorganisms can gain access to the sensitive internal structures under the soles and heels, infiltrating through small hairline cracks which occur in the dried-out hoof soles.
Seedy toe can also occur under wet conditions which facilitate the contamination of soil bacteria which lead to the development of seedy toe at the front of the toe cavity, especially in a horse with wall-sole separation due to laminitis.
Tips for maintaining hoof health in Summer:
Pick out hooves regularly to remove any stones or small objects lodged in feet. This also helps you to assess the quality of the frog and sole, look for thrush, punctures, cracks or hoof abscesses.
Maintain regular trimming or shoeing by a qualified farrier, a properly trimmed and balanced foot is less likely to be affected by cracking and break-away of the hoof wall.
Limit excessive exercise on compacted surfaces, this will also reduce joint concussion.
Avoid allowing hooves to dry out or become too wet.
Limit turning out horses into muddy areas.
Provide a well-balanced diet to support nutritional hoof health.
Use a supplement for hoof health.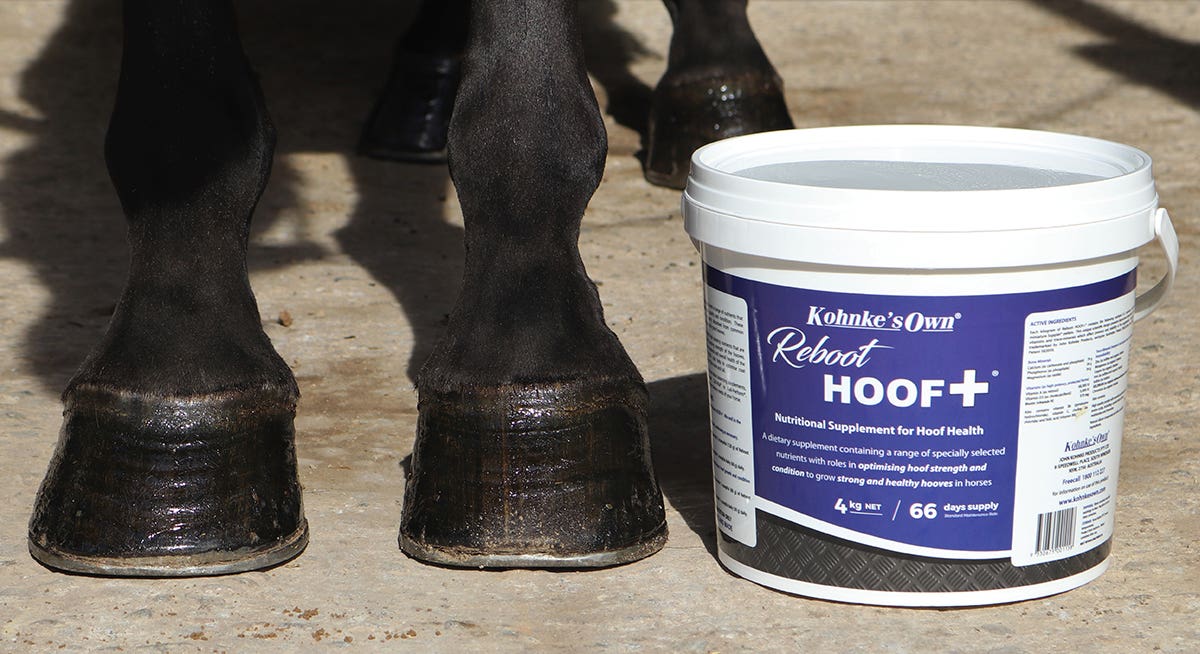 Supplements for Hoof Health
Even with a well-balanced diet, some horses may still struggle with poor hoof condition. Providing a targeted hoof supplement is beneficial to support hoof health. With a wide variety available, it's important to select a hoof supplement that contains a range of ingredients to support hoof health, growth and improved quality.
Kohnke's Own Reboot HOOF+ contains a comprehensive range of nutrients targeted to help hoof growth and quality. Biotin is the best known of vitamins involved directly in the structural integrity and growth of the hoof wall. Reboot HOOF+ includes 45 mg of biotin per dose (initial supplementation rate) and this biotin is highly potent, stable and able to work to its full activity due to the exclusive pelleted design. Reboot HOOF+ also contains a source of high-quality protein with a range of natural amino acids specially formulated to improve the quality of the hoof. These include sulfur-containing amino acids such as methionine, as well as lysine and threonine. Reboot HOOF+ supplies extra calcium, phosphorus and magnesium to ensure these critical nutrients are available to quickly grow strong hoof material.
The supplement also provides other synergistic nutrients, such as natural silicon and extra vitamin A, D and C, as well as trace-minerals such as zinc, copper, manganese, iodine, selenium and chromium. It's the specific combination of these many nutrients that helps Reboot HOOF+ to work effectively with excellent results in all types of horses which may benefit from a hoof supplement.
By keeping your horse's hooves dry yet moisturised, and limiting excessive exercise on compacted surfaces, along with using a targeted hoof supplement, you can minimise poor hoof condition caused by Australia's summer weather.
At Horseland we're here to help care for your horse's wellbeing. We offer all the essentials to keep your horse healthy and happy through summer, from mesh rugs and fly masks, to sunscreen and insect repellent. Browse our full range of products online or head into your local Horseland store.