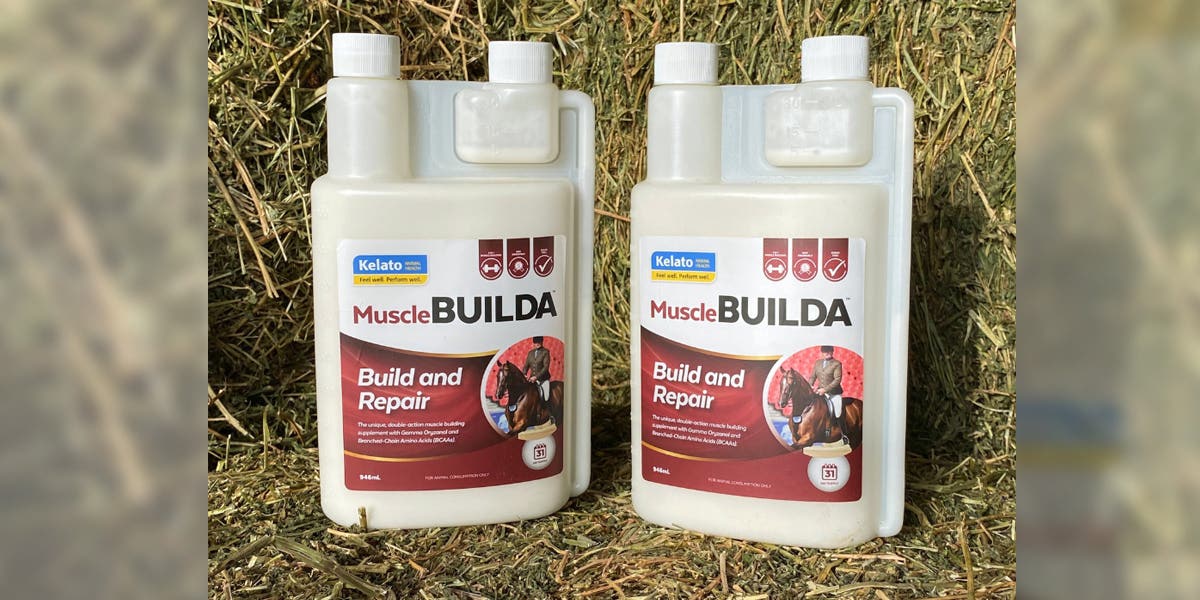 Brand new from Kelato is the unique, double-action muscle building supplement with Gamma Oryzanol and Branched-Chain Amino Acids (BCAAs), MuscleBUILDA. This fantastic new product has been designed specifically to help your horses when they need some extra wow – right now!
What is MuscleBUILDA?
MuscleBUILDA is a unique, double-action muscle building supplement that focuses on the quick development of lean muscle to improve the muscle-to-fat ratio and contains key amino acids that help with muscle recovery. MuscleBUILDA is the only product of its kind on the Australian market and is the perfect kick-start for show campaigns, yearling prep, and more.
What makes MuscleBUILDA different?
To promote the development of muscle tissue, MuscleBUILDA focuses on two key aspects: building AND repairing. The unique combination of ingredients in MuscleBUILDA nourishes muscles during the pre-campaign phase for increased lean muscle, improved muscle-to-fat ratio and body condition while promoting post-exercise muscle recovery. Because MuscleBUILDA contains one of the highest levels of gamma oryzanol on the market, it means the body can utilise proteins more efficiently to accelerate muscle growth and lean muscle mass development. A bonus of gamma oryzanol is it's a potent antioxidant to promote muscle health further!
Alongside gamma oryzanol, MuscleBUILDA contains a pure form of branched-chain amino acids (BCAAs) which are key muscle-building amino acids that help replenish muscles after exercise to help with recovery.
Why is a pure form of BCAAs important?
Having pure-form BCAAs means the body doesn't have to obtain the BCAAs through the digestive process or different feed ingredients. This ensures the BCAAs are readily available when the gamma oryzanol is at work and are delivered to muscle tissues where they're needed most. MuscleBUILDA is the ONLY product on the market to combine this high level of gamma oryzanol AND this pure form of BCAAs!
When to use MuscleBUILDA?
Use MuscleBUILDA for horses that:
Are in paddock condition and are coming back into training
Need to quickly improve muscle-to-fat ratio
Need to build topline and lean muscle
Are undergoing yearling prep
Need muscle support during times of post-competition recovery and/or stabling
Are lacking muscular condition
Are currently on high-protein diets


What are the benefits of MuscleBUILDA?
Promotes the development of lean muscle and topline
Nourishes muscles effectively and quickly during the build and repair phase
Improves muscle-to-fat ratio
Supplies key amino acids for muscle development
Improves muscle recovery
Supports muscle protein utilisation
Promotes a positive nitrogen balance within muscle tissue for optimal absorption of BCAAs
Sugar-free formulation
Non-swabbable
Does not cause excitability
Sugar-free. Great choice for metabolic horses!
Easy to use liquid
Palatable