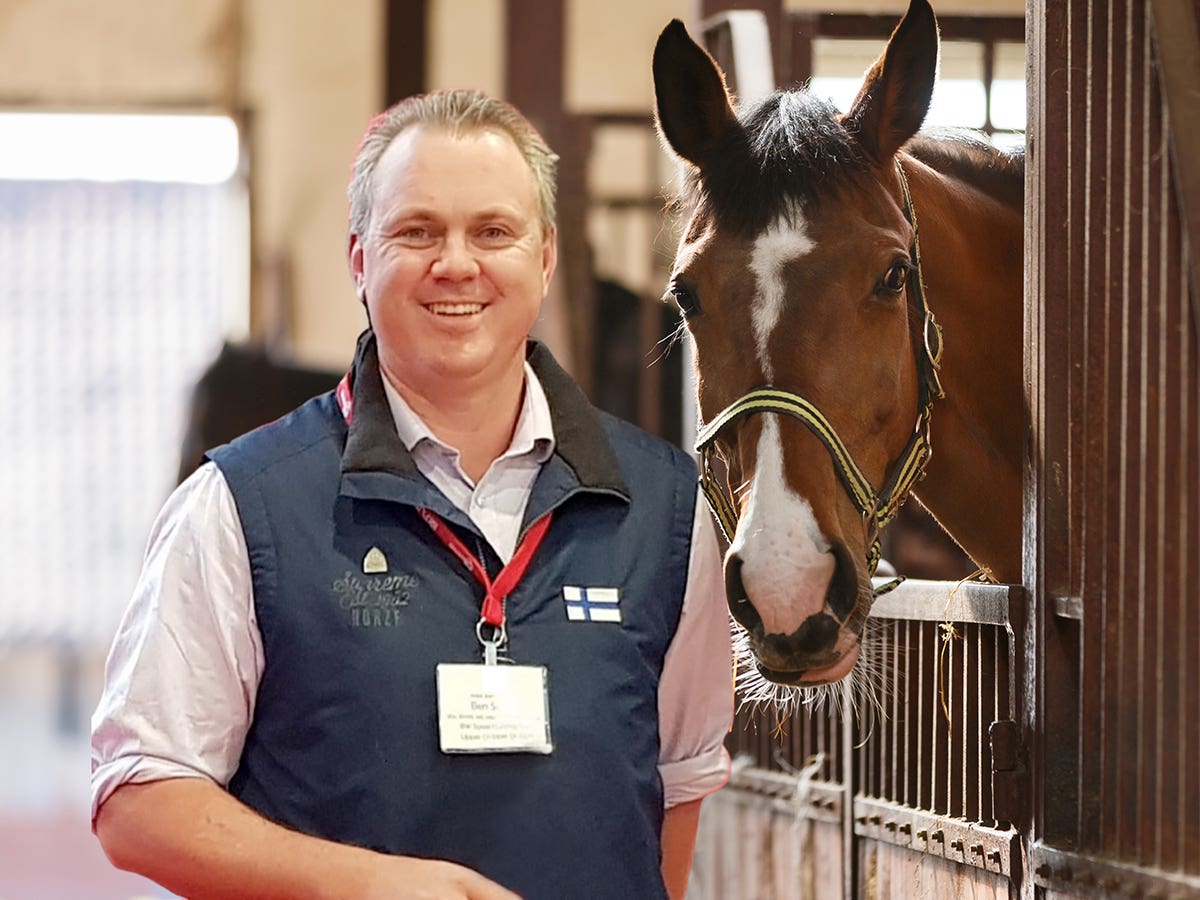 Learn from a leading equine veterinarian about the signs, causes, prevalence and risk factors of these diseases of the stomach.
A/Prof Dr Ben Sykes (BSc BVMS MS MBA DipACVIM DipECEIM PhD FHEA) is a leading equine veterinarian who has spent a lot of his time researching and managing Equine Gastric Ulcer Syndrome (EGUS) as a clinician. He is now changing the way we think, talk about, treat, prevent, and manage EGUS in our horses.
What is EGUS?
To properly understand EGUS, we first need to clarify the terminology. The term "EGUS" has been around for the past 20 years was originally coined by a panel of experts in the field at a time when vets and horse owners were just starting to learn about diseases within the equine stomach. But in more recent times, the terminology has changed significantly.
EGUS is an over-arching umbrella term that simply describes ulcerative, erosive, and hyperkeratotic diseases of the stomach. We now know there are very distinct differences between diseases in the upper squamous mucosa versus the lower glandular mucosa of the horse's stomach. So, EGUS is now divided into Equine Squamous Gastric Disease (ESGD) and Equine Glandular Gastric Disease (EGGD), with A/Prof Ben Sykes, describing them as "Like the odd couple. They just live together in the same apartment but are not related to each other. As such we can't extrapolate from one disease for another."
ESGD and EGGD are COMPLETELY different in terms of causes, prevalence, risk factors, treatment, management, and prevention.
Pathophysiology
EGGD presents with inflammatory and erosive lesions due to breakdown of the muco-bicarbonate layer which normally protects the glandular area from acid burn. The specific causes why this defence mechanism breaks down are not well understood but risk factors have been associated through A/Prof Sykes' and others' research.
Prevalence
EGGD prevalence is less well documented than ESGD prevalence, but it has been reported as between 47-65% in Australian Thoroughbred racehorses and 27-33% in competing endurance horses (Sykes et al. 2015). A retrospective study in the United Kingdom reported EGGD in 54% of leisure horses and 64% in sport horses presented for gastroscopy (Hepburn, 2014). These findings support the clinical impression that EGGD is more prevalent in riding horse populations than racehorse populations and the majority of the EGGD lesions in all the above studies were located within the pyloric antrum.
Risk Factors
The risk factors for EGGD are very different to ESGD and less well described. While non-steroidal anti-inflammatory drugs (NSAIDs) used at higher doses may cause EGUS (both ESGD and EGGD), the impact of them at normal therapeutic doses is less clear. No evidence exists to date to support the role of Helicobacter infection in EGGD, in contrast to peptic ulcer disease in people.
There is minimal data to support the role of diet with EGGD, unlike ESGD, however, exercise does play a role in EGGD albeit appearing to be a different mechanism than for ESGD.
The association of stress and ESGD has been discussed for many years, but the term can be quite unclear at the best of times, with minimal evidence to support a role for stress in the causation of ESGD. However, there is a growing body of evidence to support behavioural stress as being central to EGGD risk.
Clinical signs
It is difficult to establish clinical signs of EGGD at a population level, explains A/Prof Sykes but a range of behavioural manifestations are observed and a link with poor performance has been established.
Want to know more?
Join us for two FREE and exclusive webinars, proudly brought to you by Horseland and Kelato Animal Health. Learn from world leading expert on Equine Gastric Ulcer Syndrome (EGUS), A/Prof Dr Ben Sykes, in this free educational two-part series of webinars.
Wednesday 27th April 2022 7.00pm (AEST) | What is EGUS? And how is it diagnosed?
Wednesday 11th May 2022 7.00pm (AEST) | Treatment and prevention of EGUS.
If you've ever suspected EGUS in your horse, make sure you register for both webinars here!
At Horseland we're here to help care for your horse's wellbeing. We offer a large variety of horse health products to keep your horse happy and healthy all year round. Head into your local Horseland store or browse our full range of Kelato products online.
By Horseland in partnership with Kelato Animal Health.