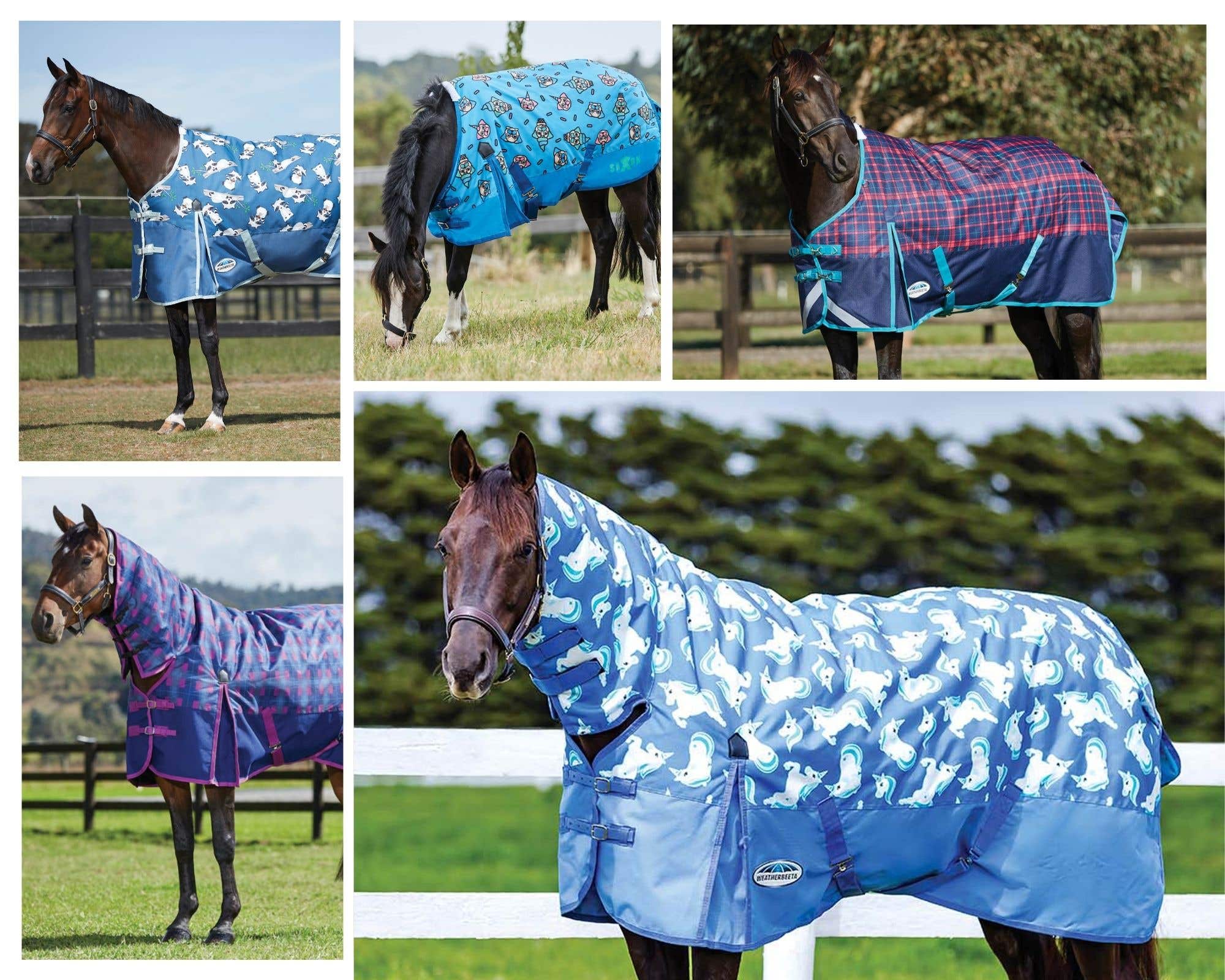 Over the last three years here at Horseland, we've brought out some amazing, wild and fun prints on our rugs. As innovators of bold rug prints, we've had so much fun creating them in-house! Let's run through all the fun prints we have to offer this autumn/winter and the ideas that inspired them.
WeatherBeeta Turquoise Unicorn Print
After the incredible success of the Saxon pony unicorn rugs last year, we were left with horse owners being super envious and wanting a unicorn rug in their size! Thus, the WeatherBeeta turquoise unicorn print was born. This super fun and cute print is perfect for that special unicorn in your life and is bright and bold so you can spot your horse from a mile away. We LOVE the mix of turquoise, green and white. It's loud without too much going on! The best part about it? We've made sure to have this unique pattern on one of our most popular rug styles, the WeatherBeeta ComFiTec Essential Combo Neck Medium.
WeatherBeeta Raccoon Print
You know we love an animal print here at Horseland, and how could you not love a cheeky raccoon? This idea came to us in Jan '20 as we kept seeing cute raccoon images everywhere and thought this would look good on a rug! Our previous animal prints have been very popular, so we're always trying to bring out a cuter animal print every year. Our in-house graphic designers had a lot of fun creating this print and we're loving seeing all your horses in them. This print is also available in the classic WeatherBeeta ComFiTec Essential Combo Neck and WeatherBeeta ComFiTec Essential Standard Neck styles. Want to play matchy matchy with your dog? Get your dog the WeatherBeeta ComFiTec Premier Free Parka Dog Coat Medium in raccoon print so the whole squad can look amazing!
WeatherBeeta Turquoise/Pink/Navy Plaid
Two popular fashion colours for winter '22 was pink and turquoise, and who doesn't love plaid? This inspiration was taken from the fashion industry and combined with our classic plaid design for a pretty print. It would be a crime not to offer a plaid for winter, and we're so pleased with the outcome! This print is available in the extremely versatile WeatherBeeta ComFiTec Plus Dynamic II Combo Neck Medium, WeatherBeeta ComFiTec Plus Dynamic II Detach-A-Neck Medium, and WeatherBeeta ComFiTec Plus Dynamic II Standard Neck Medium.
Saxon Pug Print
Sometimes you come across an image that sparks an idea. The Saxon pug print was created just like that: we saw an image that was so cute, that we decided we absolutely needed to do a pug print! The combination of ice cream and donuts gave that adorable candy effect that we wanted and are now so loved. This super cute pattern is available in the Saxon 600D Pony with Buckle Combo Neck Medium and Saxon 600D Pony with Buckle Standard Neck Medium.
Saxon Purple Plaid
Sticking with the winter fashion colour trends for '22, we decided to go with a rich purple plaid that was sure to pop out in the paddock! This gorgeous pattern has a light purple binding and goes so well with the stunning darker purple throughout. You can get this pattern in the Saxon 1200D Combo Neck Medium, Saxon Combo Neck with Buckle Combo Neck Heavy, and Saxon 1200D with Buckle Standard Neck Medium.
Whether prints are for you or not, at Horseland we've got a huge range of colorful and classic rugs to suit your needs! Check out our great range of rugs for horses of all shapes and sizes at your local Horseland store or browse online.
Our friendly team is always eager to provide assistance with choosing the best rugs for your horses. Visit us in-store, call 1800 021 980 between the hours of 9am and 5pm Monday to Friday or send an email to onlinesales@horseland.com.au.