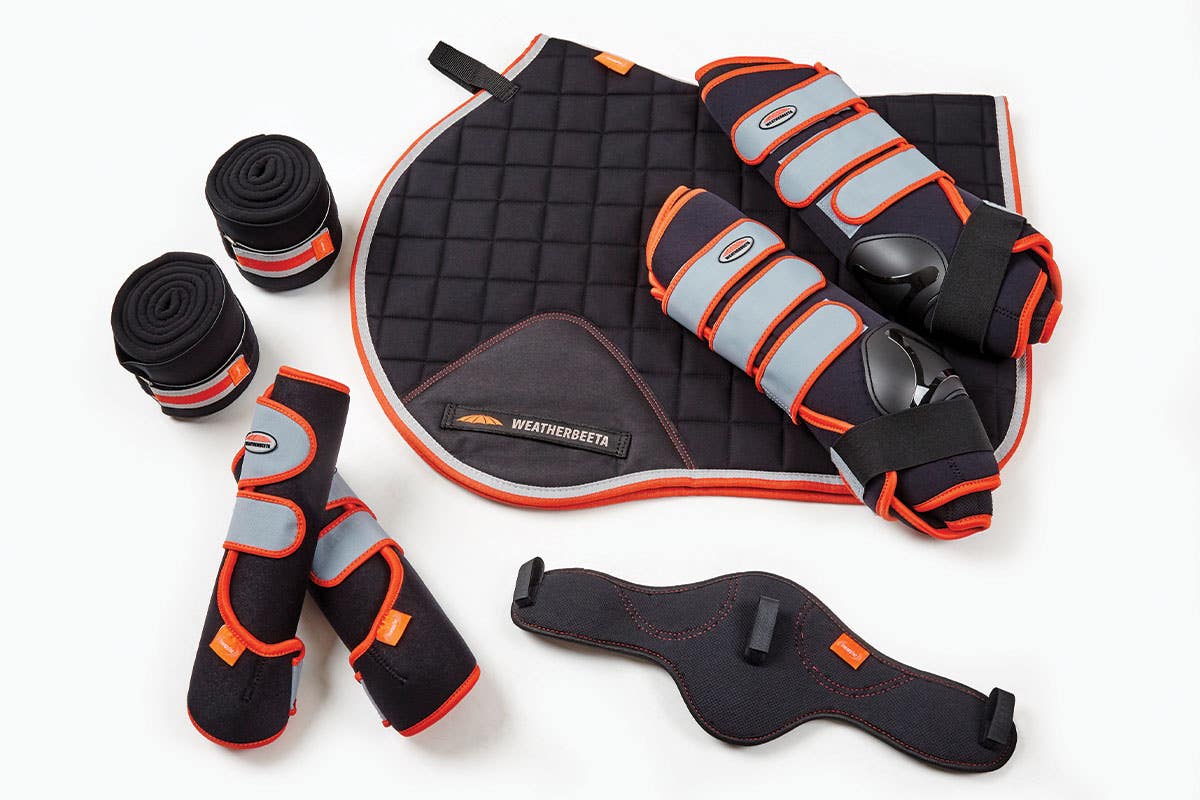 Have you heard of WeatherBeeta Therapy-Tec? Ever wondered exactly what it does or how it works? We spoke to the product development team at WeatherBeeta Australia to ask them exactly what benefits these products have for your horse. Read our questions and answers to learn a bit more about these innovative new products!
Q. How does increasing circulation assist with the recovery process?
A. By boosting the horse's blood circulation through the unique Ceramic Fabric Technology, there will be an increase in oxygenated blood flow and supply to key muscle groups. This helps improve muscle function prior to exercise and speeds up the recovery process, post-exercise or post-injury, through the reduction of swelling and buildup of lactic acid in the muscle fibers. An increase in blood supply to the muscles is also a vital part of fighting off infection, detoxifying the muscles and can reduce problems associated with poor circulation.
Q. Why should I use Therapy-Tec?
A. Just like us when exercising, horse's muscles can undergo significant stress and strain. Often our horses need some extra help to keep them feeling their best. The WeatherBeeta Therapy-Tec range has been designed to help increase your horse's muscle function, reduce the risk of injury during work & assist with the recovery process afterwards. Therapy-Tec can have a calming effect, helping your horse settle post- exercise and aid in the improved comfort of retired or injured horses- The perfect choice for anyone wanting the very best for their horse!
Q. How does Therapy-Tec work?
A. Therapy-Tec has a unique Ceramic Fabric Technology infused into the inner lining which aids in creating a warming therapeutic effect, through reflecting the horses own body heat via infrared waves.
The Ceramic-infused fabric works to gently increase blood circulation, assisting the warm-up of key muscles prior to exercise which helps prevent injury. Therapy-Tec can also aid post-exercise to reduce swelling and detoxify muscles from lactic acid build up, therefore speeding up the overall recovery process.
Q. How often should I use Therapy-Tec each day?
A. Therapy-Tec products can be used before, during and after exercise, depending on their purpose. Therapy-Tec can be worn 24 hours a day if needed, however a gradual introduction is recommended. The rugs can be worn up to 1 hour on the first go. Time can be increased slowly to allow the body to adjust to the therapeutic effects.
Q. Can I use Therapy-Tec during travel?
A. Yes, this is a great time to be using your Therapy-Tec (specifically the rugs), as you are travelling to and from competition, clinics or outings. This will allow an adequate amount of time for the blood flow to circulate and warm up muscles prior to exercise. Similarly, on the way home this will aid in the recovery process and help to ease stiffness from exercise.
Q. Can I wash my Therapy-Tec or will it lose its fabric properties?
A. Yes, you can wash your Therapy-Tec products. To help keep them in the best condition we advise washing your Therapy-Tec in the washing machine at 30 ºC. This will keep your Therapy-Tec in working order and ensure that the Ceramic Technology is long lasting. Always refer to the care instructions that come with your Therapy-Tec.
Q. Is Therapy-Tec something that can be used on older horses?
A. Yes, Therapy-Tec can be used across a range of different horses; From horses in full time work, low-medium intensity work and even horses recovering from injury. We do not recommend using Therapy-Tec on your pregnant mares.
Q. Does Therapy-Tec need to be in direct contact with the skin to work?
A. For the best results your Therapy-Tec should be in direct contact with the skin, otherwise the Therapeutic results may be lost if layered on top of another rug for example. You can use these on any coat types, clipped or unclipped horses.
Q. Can I use Therapy-Tec on my pregnant mare?
A. It is not recommended to use Therapy-Tec on pregnant mares. This is due to the hormonal differences and running the risk of over-heating the horse.
WeatherBeeta have just released a new Therapy-Tec accessories range that matches back to the Therapy-Tec rug and dog coat ranges. Check out the new range of boots, saddle pads and more below.